Integrated Life Skills Program
Our Life Skills Program is a 9am – 3pm, post-school day program, for adults with complex behaviours across five streams:
1. Daily life skills
We empower our participants to develop skills in a range of daily-living areas, based on their interests and goals. For example, participants can develop cooking skills in our fully functioning kitchen or learn how to do washing in our purpose-built laundry. Other areas we focus on include communication, using various modes of transport and shopping.
2. Health and wellbeing
Participants can improve their physical fitness in our gym or kick a ball around in our private outdoor grass area, learn gardening skills using our vegetable patch and compost bin or develop yoga and meditation techniques for mental wellbeing.
3. Work-activities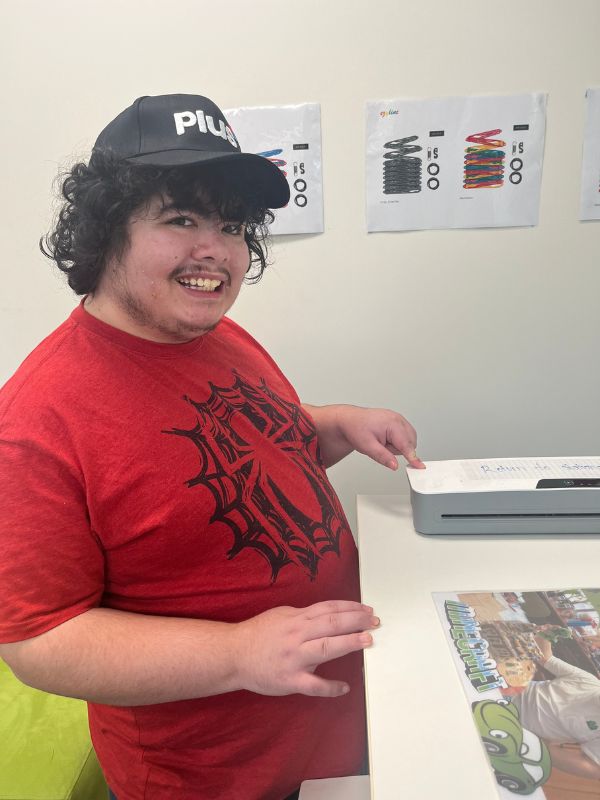 By breaking down tasks according to their abilities and eliminating barriers, participants at Plus are empowered to engage in meaningful and supported work tasks that help increase their knowledge, improve their skills, and achieve a sense of purpose.
We have partnered with like-minded business partners, including Ezyline, who provide our participants with order fulfilment tasks such as the assembly of products, kitting and sending of orders.
A day at Plus might start with logging in to check whether our partners have received any online orders, finding the correct product, assembling and packaging it, and marking inventory to keep track of stock.
Every cent of profit derived from these activities is distributed to the participants who earn an equal share of remuneration which they can then spend as they like. 
4. Creative expression
Our creative arts area is a space for self-expression, where participants can demonstrate their artistic flair, supported by a certified art therapist. Whether in a group setting or individually, the art space and activities provide opportunities for communicating emotions, releasing pent-up feelings or socialising in a group.
5. Access to the community (social)
Our social activities are community-based, offer 1-1 support, and stem directly from our participants' likes, dislikes and needs. Some of our social activities include bushwalking or swimming in the local area, visiting a favourite cafe for lunch with friends, spending a day at Taronga Zoo or Sea Life Aquarium, mini-golfing, trampolining and go-karting.
Our community program is different because we develop participant skills and integrate learning into the day's activities. Some of the skills our participants focus on include independence, confidence, money-handling, communication, and road safety awareness.
For those participants who prefer to stay in the hub, we have an 800 sqm private grass outdoor area, which is perfect for kicking a ball, gardening, enjoying a BBQ and socialising with friends. Participants can also engage with their friends during lunch in our open plan kitchen area.
If you'd like to learn more about Plus, please get in touch.