We are building Plus to be Australia's leading integrated program for people with complex behaviours – focused on positive behaviour support.
We believe that with the right support, everyone can participate in society and make their contribution.
We say "yes" where others say "too hard."
Our model is breaking new ground in disability service provision in Australia, and focuses on three service pillars:
1. Integrated life skills day program
A 9am – 3pm day program for adults with complex behaviours across five streams:
Daily life skills
Health and wellbeing
Work activities
Creative expression
Access to the community (social)
2. Behaviour Support Coordination
Plus has an internal behaviour support team to truly implement to a high standard exceptional Positive Behaviour Support for our participants. Our staff:
Are highly trained on each participant's specific support needs in the Plus environment according to their Behaviour Support Plan.
Get to know our participants as individuals first, and work to understand the reason behind their behaviours, rather than focusing on the behaviours themselves.
Regularly communicate with participants' families and support team to develop individualised, meaningful, achievable strategies that are regularly reviewed and refined to progress participants toward their NDIS goals.
Implement proactive strategies for each participant to achieve more and more zero-incident days and an exceptional quality of life.
3. Clinical services
We are building a suite of allied health and clinical services specialising in people with complex behaviours. You can access our services on an individualised, hourly basis whether you are a Plus participant or not. For those who do attend our Plus day program, you can access these clinical services in the same place – as part of your routine, in a more integrated, seamless way. We believe that this blended model achieves the best outcomes for our people.
Read more about Clinical services
"Finally we have found a place, post school, where Lili really belongs! She is surrounded by young, energetic support staff who understand and embrace her. She is forming friendships, socialising, learning new skills and exploring her community. Her days are interesting, active and happy. Thank you team plus for the way you contribute to Lili's quality of life. The new premises is fabulous and caters so well for complex support needs."
"Plus management and [support workers] have shown great understanding of and tolerance towards my daughter.. She feels very welcomed at Plus – compared to a previous provider where she felt disrespected and bullied by [support workers]. This has helped her with learning to manage her emotions."
Meet some of our Team Members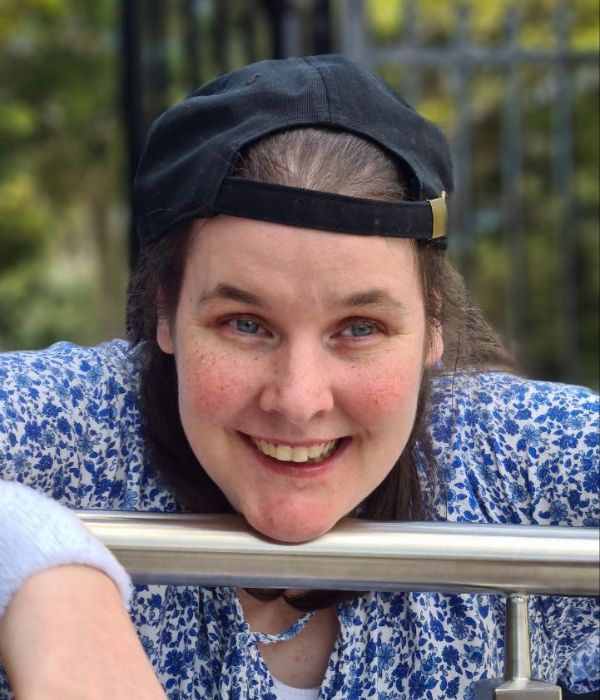 Jocelyn
Meet Jocelyn. She is the social butterfly of Plus! She has lots of friends and enjoys interacting with everyone and spending time in the common areas.
Jocelyn is non-verbal. She has been with Plus for nearly two years and has been making a lot of progress with her communication and social skills. One of her goals is to engage in social programs – and Plus provides her with an environment where she can work towards that and access the social atmosphere she thrives on.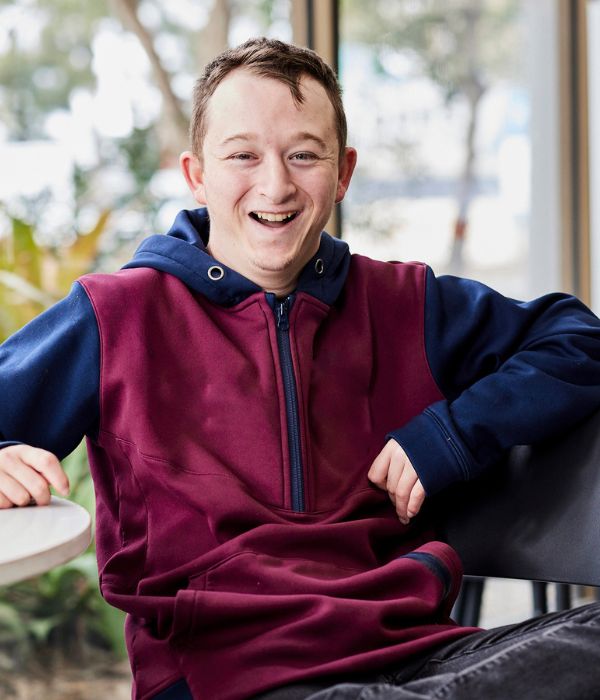 Luke
This is Luke. During our Plus social days, Luke practices his budgeting skills and, because eating out is one of Luke's favourite things to do, that includes planning and budgeting for his lunch.
With the help of a budgeting template, Luke will plan how much he spends on his social activity and decide what he's going to have for lunch to make sure he doesn't go over his daily budget. His end goal is to be able to independently manage a debit card.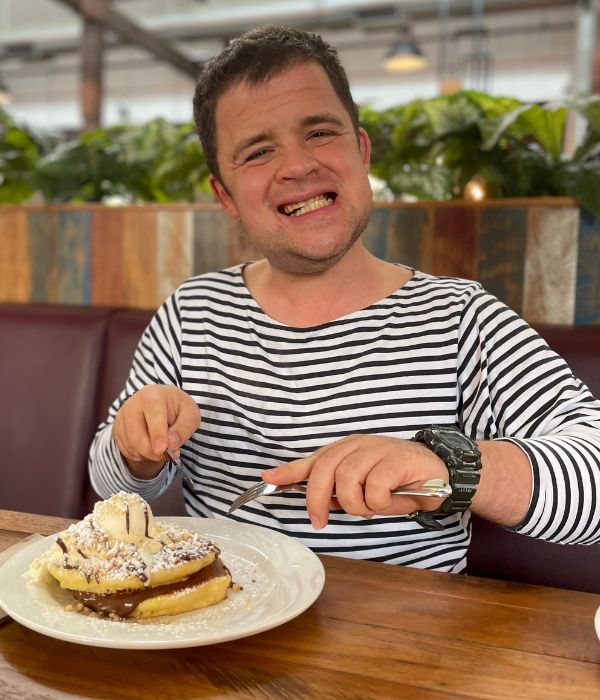 Daniel
Daniel has been part of the Plus family for many years and has spent time working in both the Order Fulfilment and Markets Team. Daniel also loves attending our wide range of social activities; his favourite social outing by far is a trip to Pancakes on the Rocks.
Daniel is a social superstar who practices his life skills on every expedition. On this day, Daniel chose where he would like to go, made the plan, and practiced his money handling and conversation skills.
Thanks to highly trained staff and a specialised physical environment participants at Plus will: Improve daily living skills Be connected to the community Find wellbeing through a sense of purpose and belonging
Plus Offices
Unit 5, 10 Rodborough Rd
Frenchs Forest NSW 2086
Australia
Plus is located at unit 5a, 10 Rodborough Road, Frenchs Forest.
Our new fit-for-purpose space includes sensory rooms, health and wellbeing areas, creative arts, social and life-skills rooms to empower our participants to develop and learn essential life skills.
Best of all, our 800sqm private grass outdoor area is perfect for kicking a ball, socialising with friends or just relaxing in the sun!
Does Plus sound like it's for you?
To find out more about Plus, please fill in the form below or give us a call. We look forward to hearing from you!
By submitting this form, you agree to receive emails from Plus and can unsubscribe at any time. 
View our Privacy Policy.